Texas Flying Legends'
by Chuck Cravens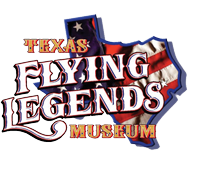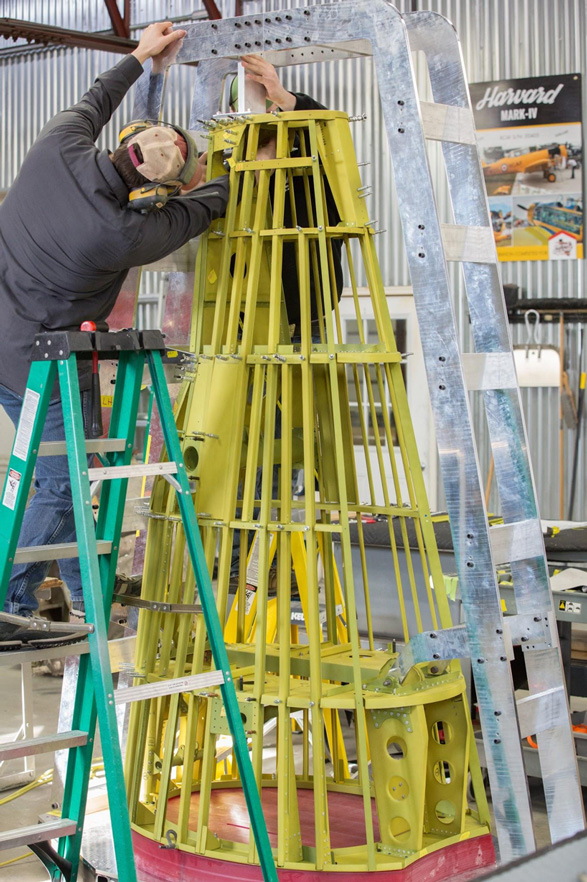 Careful realignment is always part of reinstallation when using a fixture.
Update
In our last update, we showed the tail cone's initial assembly, disassembly, and finally painting. The vertical stabilizer was at the same stage.
This month those assemblies are beginning to take on their final, permanent form.
The fabrication shop is staying one step ahead so that parts will be ready when needed as the P-47 continues to take shape.
Tail Cone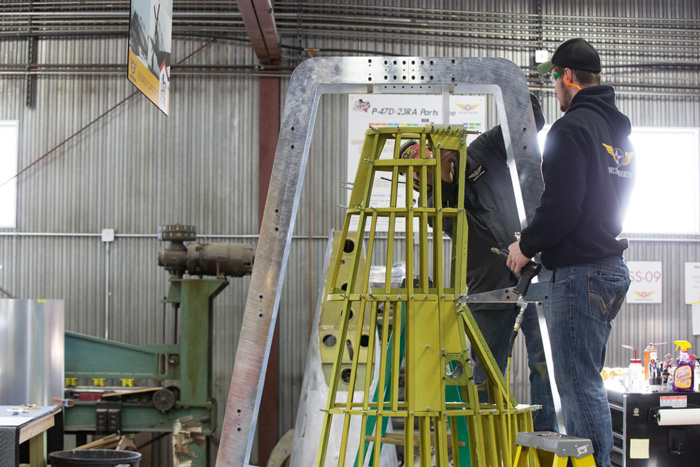 Riveting the rear rib in place required the end of the tail cone to be detached from the fixture for clearance.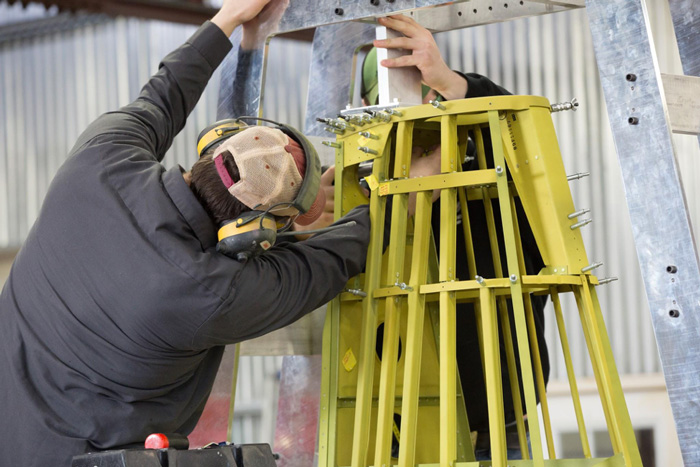 This image is just a tighter shot of the last one.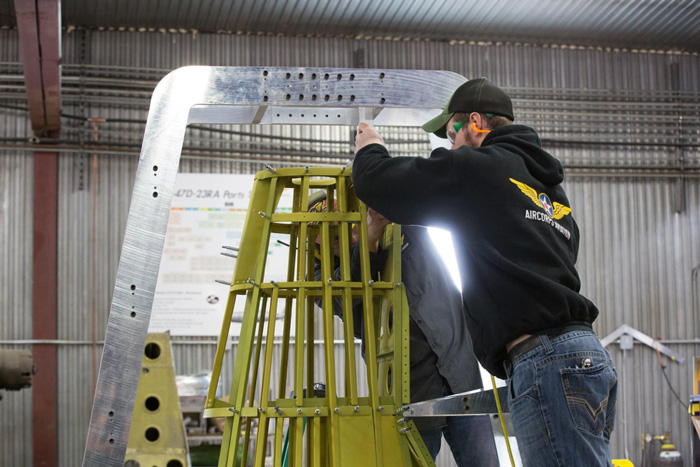 Hunter and Randy are re-attaching the  tail cone to the fixture.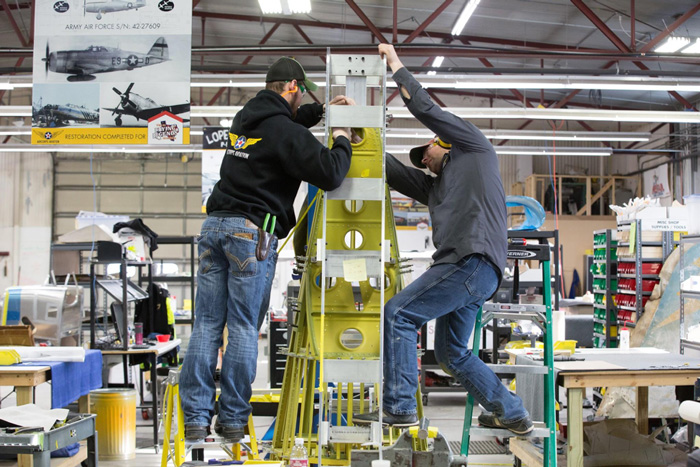 Here Robb and Hunter are riveting the upper rear fuselage web in place permanently.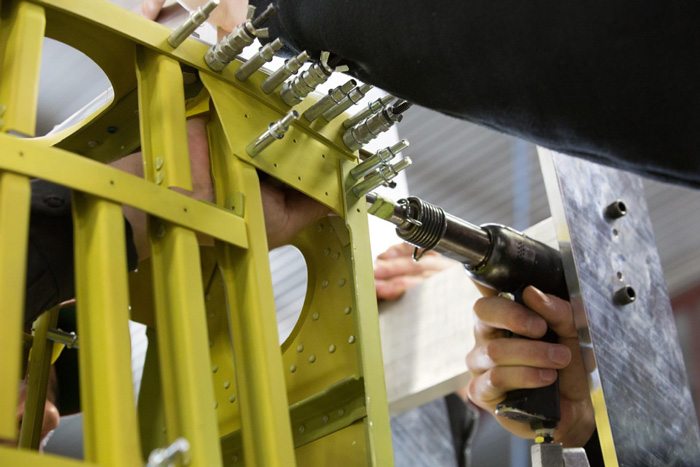 This is a much tighter shot of riveting the web.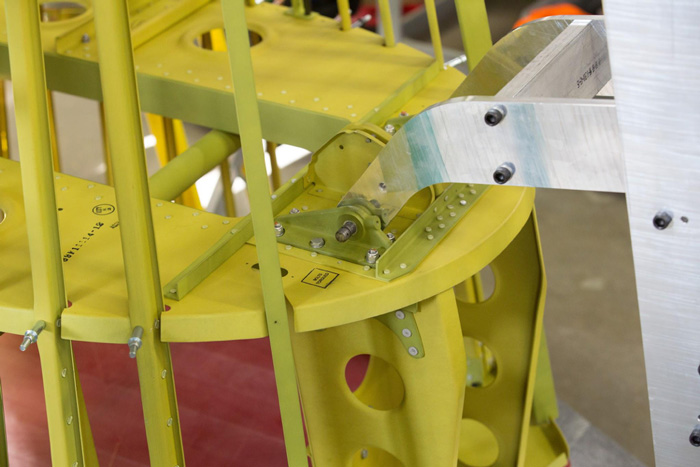 The lower tail wheel mounting bracket is a good, solid place to use to bolt the tail cone to the fixture.
The lifting hole and tube are reinforced by this casting.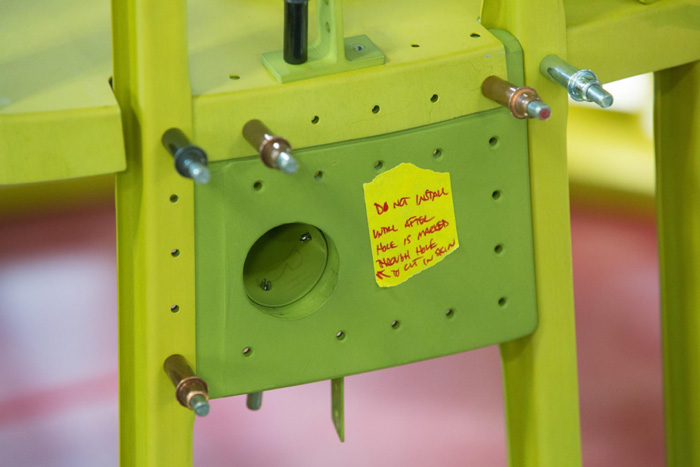 This tighter view lets us read Randy's note. "Do not install until after hole is marked through hole to cut in skin."  This is so the hole in the skin can be easily marked from the inside by scribing around this hole, and then cut before installing it."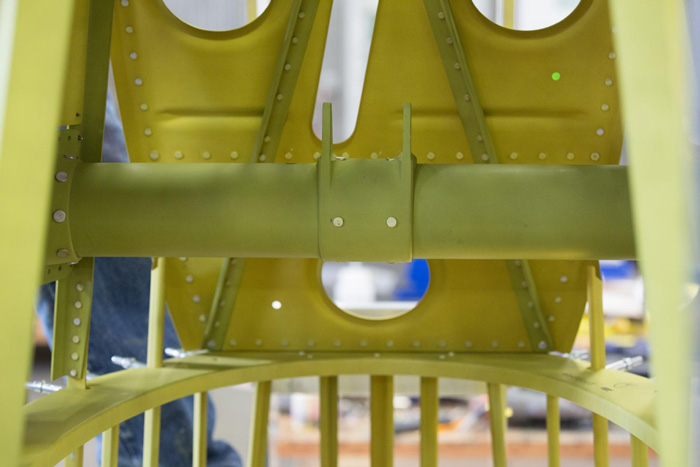 The elevator idler support tube has a center mounted casting that links to the tail wheel actuating system.  Above it is the web that strengthens the area under the horizontal stabilizer.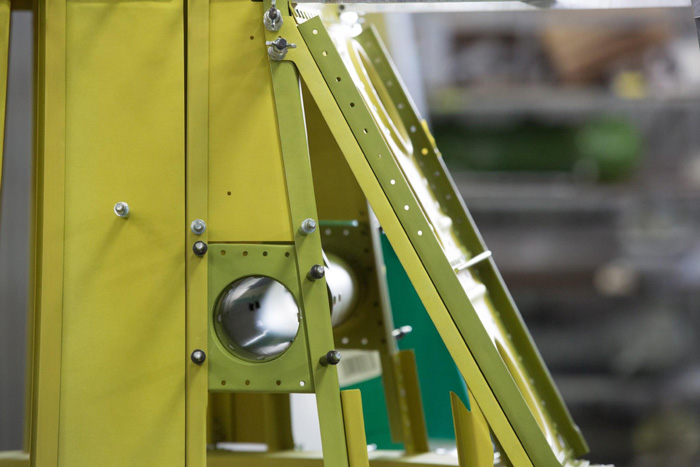 The view from the end of the idler support tube shows in this shot.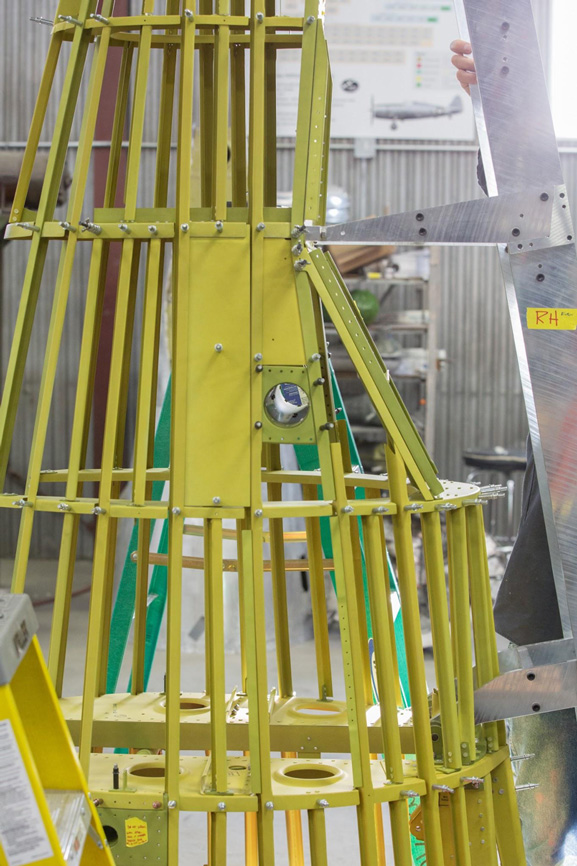 This image nicely shows the relative position of the elevator idler support tube in the tail cone assembly.
Vertical Stabilizer
Quite a bit of skinning went on now that the vertical stabilizer has been painted.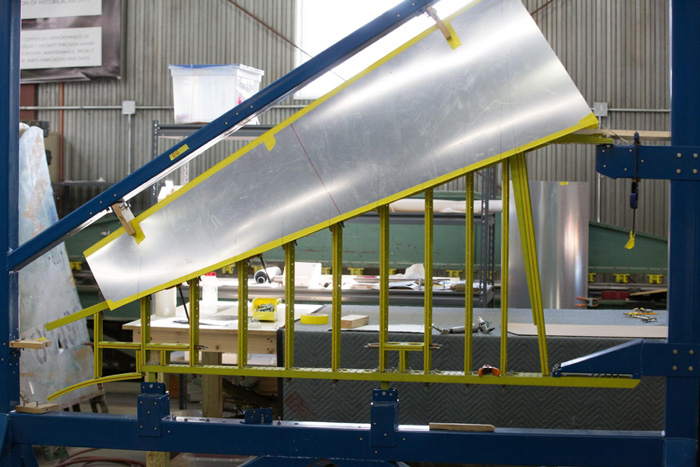 The leading edge skin is being fitted and trimmed before attaching it.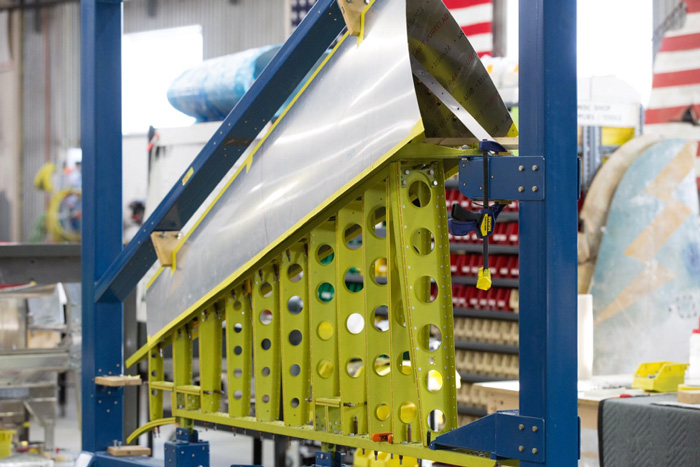 The skin defines the leading edge portion of the vertical stabilizer's symmetrical airfoil in this shot.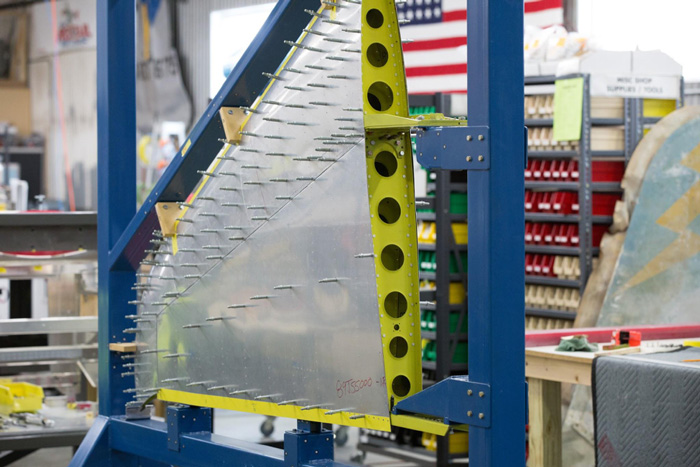 The skins are fitted and clecoed into place prior to riveting.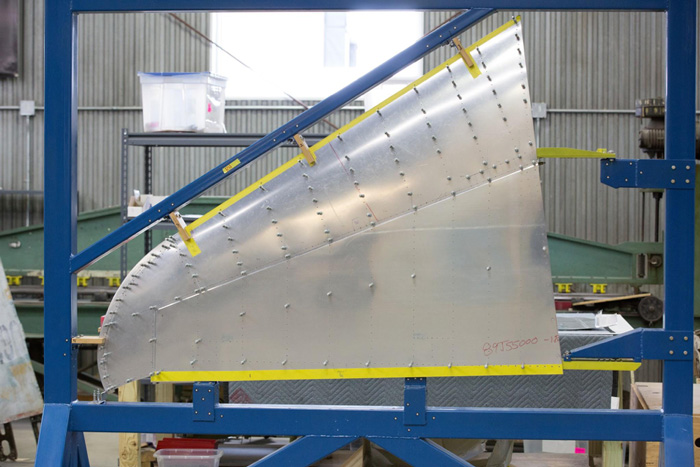 Here is a similar shot of the vertical stabilizer with the skins clecoed on, but taken directly from the side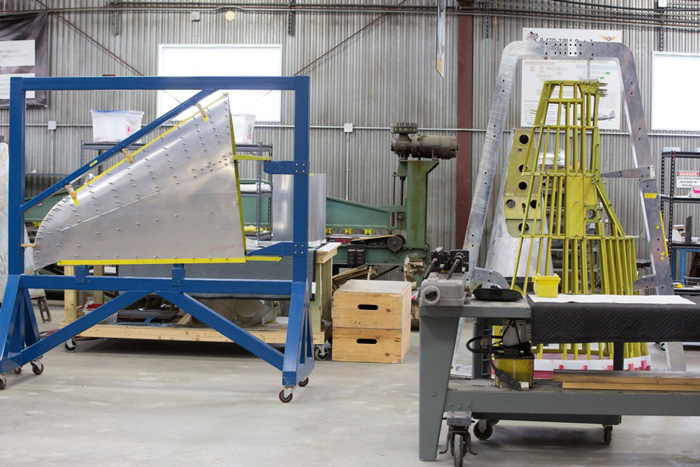 The tail cone structure and the vertical stabilizer share our shop floor for now.
Parts for Coming Steps in the Restoration
Steve is setting up an upper front wing attachment.  Republic actually called it the "Hinge Fitting Station 99 and 5/8ths, Crosstie, Upper Fuselage".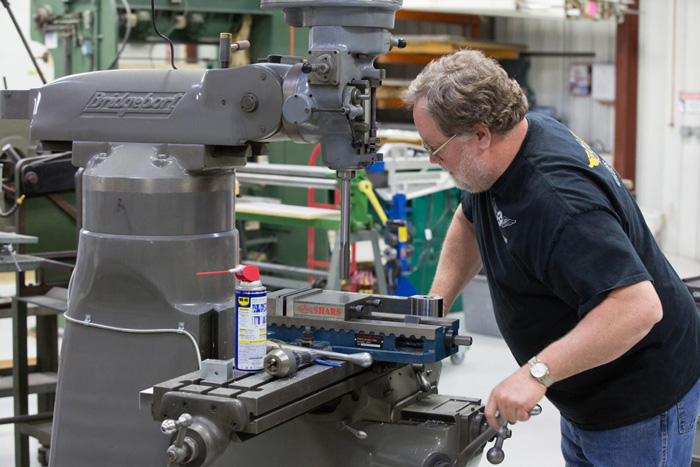 Here Steve is sizing the large hole in the upper forward wing attach fitting.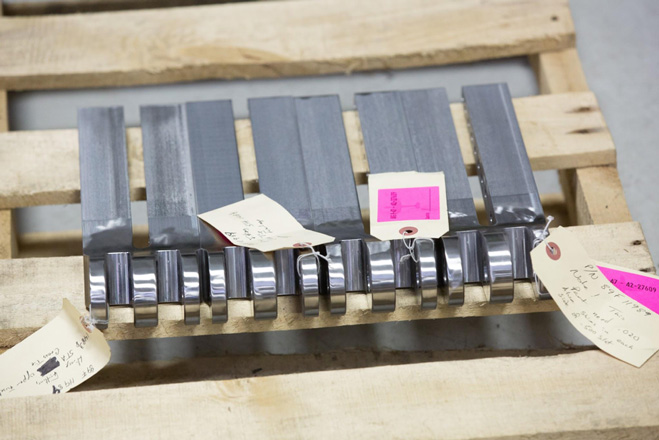 These aft upper fittings are ready for testing and plating as well.
Upper front attach fittings have had all machining completed and have been sent out for magnetic particle testing and cad plating.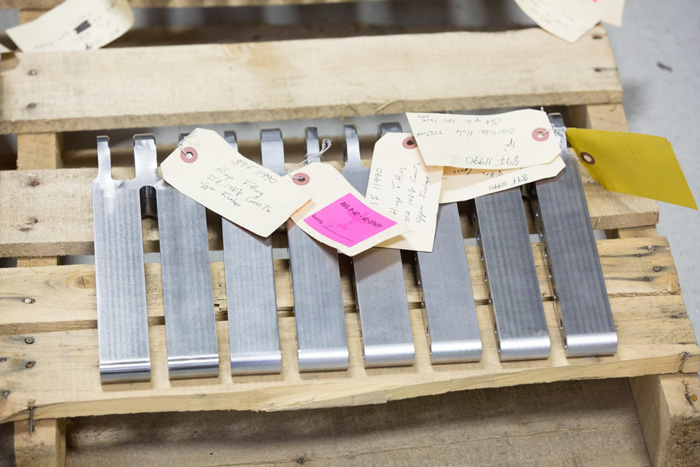 These are the lower aft fittings.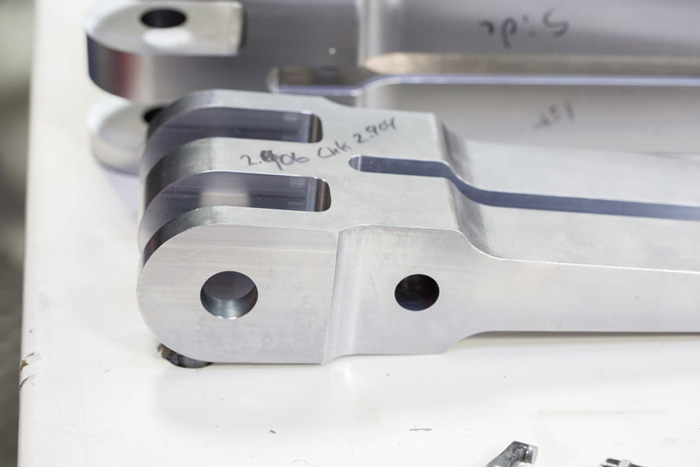 Finally, these are lower forward wing attach fittings ready for testing and plating.